On October 16, 2018, Chongqing Water Conservancy and Electricity Vocational Technical College and our company formally signed the "School-Enterprise Cooperation Framework Agreement". The signing ceremony included: Yuan Jiacai, Secretary of the Municipal Engineering Department of Chongqing Water Conservancy and Electricity Vocational and Technical College, Teacher Yang Mingli, and Liu Xiujuan, general manager of our company, Wang Wei, deputy director of marketing, and Chen Xiuxiu, regional manager of the sales department.
  The signing of the agreement strengthens school-enterprise cooperation, integration of production and education, gives full play to the advantages of the college's professional and technical personnel training, makes reasonable use of the advantages of enterprise production technology resources, and jointly creates a talent training and training platform, a technical cooperation and R & D platform, and resource construction and sharing. platform. Based on the principles of "resource sharing, complementary advantages, and win-win cooperation", both sides of the school and the enterprise actively explore the school-enterprise cooperation mechanism, improve the quality of high-tech applied talents and the quality of enterprise staff positions, better meet the needs of the enterprise, and meet local social and economic needs. The development needs, to achieve the harmonious development of students, schools, staff, and enterprises, to form a benign interaction between the two sides of the school and enterprises and to establish a long-term, close and sustainable modern school-enterprise cooperation model of industrial-education integration.
  ▲ Secretary Yuan, Department of Municipal Engineering, Chongqing Vocational College of Water Resources and Electric Engineering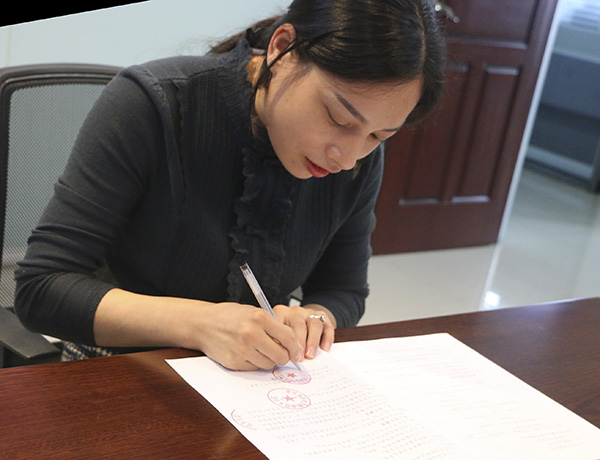 ▲ Liu Xiujuan, general manager of Shengtuo Testing
  Representatives of the two sides took a group photo to commemorate the signing ceremony of the "School-enterprise Cooperation between Chongqing Vocational College of Water Conservancy and Electric Power and Sichuan Shengtuo Testing Technology Co., Ltd." was successfully completed.